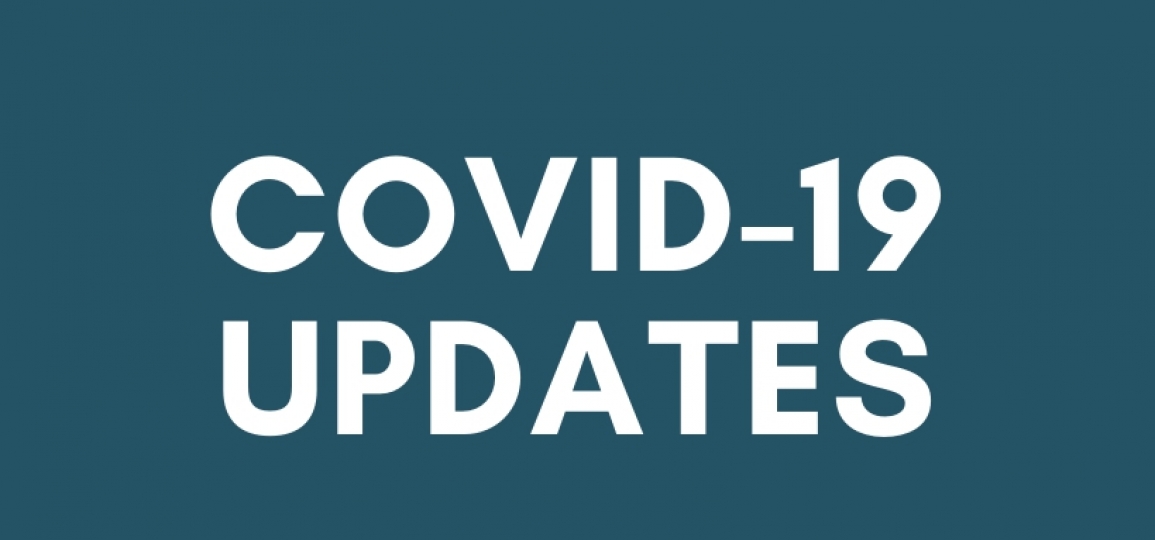 COVID-19 Update
30 March 2020
COVID-19 – What are my options
Things are moving fast in this new COVID world, this is a once in a lifetime event that is effecting everyone world wide and in NZ the banks, government and advisors like ourselves are doing their bit to help everyone though these uncertain times.
As New Zealand moved to alert level 4 for coronavirus most businesses revenue will be taking a hit. In response, the Government has announced a series of multibillion dollar support measures for business and households.
Each lender has put in place options to help clients though this tough period, below are some details however this is not an exhaustive list or to be taken as advice but hopefully can give some understanding about what's out there. As always we recommend talking to one of our team or your bank to discuss your situation before making any decisions.
Homeowners and Mortgage Holders
Interest rates have come down to record lows following the Reserve Bank dropping the official cash rate to an all-time low of 0.25%. The Government and banks have also agreed to give impacted mortgage holders, a six-month payment holiday on both the interest and principal of their mortgages.
At this stage most banks are offering one or more of 3 solutions.
Restructure - Extending your Loan Term
This is where your loan term is extended to the maximum term possible, this could drop your payments down because you are paying your loan over a longer period of time.
Things to consider:
· You still make regular payments, but these will be a lower amount. The amount will depend on your situation
· You will pay more interest over the life of the loan as you are paying it off slower
· You continue to pay both interest and principle
Pro: You'll reduce your payments and still be paying off your loan
Con: You'll pay more interest over the life of the loan because it will take longer to pay it off
Changing to Interest Only
This is where your loan is restructured so you only pay the amount covering interest payments not making any principle payments. You loan doesn't reduce because you are only paying interest but it doesn't increase like a mortgage holiday.
Things to consider:
· Your loan balance doesn't reduce as you have stopped making principle payments
· You still make regular payments however the amount of these payments decreases
· You will pay more interest over the life of the loan
· At the end of the interest only period your payments will be higher than they were previously as you are now paying the loan over a shorter period
Pro: You don't fall behind
Con: You're not getting ahead. If your property values slip, you could find your equity decreases.
Take a Mortgage holiday
Be wary though, there is no such thing as a holiday. It's actually a deferment where the money will either be added to your outstanding balance or your mortgage term will be extended.
Loan payments stop completely for the allowed period. What that means is you are not making any principle or interest payments and these are added onto the loan causing the loan to increase over time.
Things to consider:
· You stop making any payments on your loan
· The interest you would have paid builds up into your loan
· After the holiday period your loan will move back to principle and interest. Your loan will have increased and your payments will be higher than they were previously due to the loan being larger and paid off over a shorted period of time
A better option could be for you to apply for a period of interest only payments on your mortgage. The benefit of this is as mentioned above is that the balance of your mortgage will still be the same as it is today at the end of the interest only period.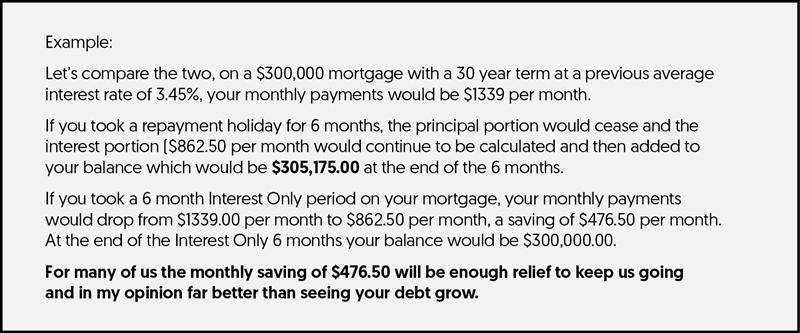 Pro: No payments for up to six months
Con: Expensive in the long run
For some there may be no other option than taking a mortgage holiday, if you would like some advice feel free to contact our team and discuss your options.
If you were about to buy a property
Don't discount your plans just yet. Interest rates are very attractive and there are some attractive properties on the market.
The New Zealand property market was holding up well in the early stages of COVID-19 and had been experiencing strong price growth over summer. With banks and the Government coming together to support workers, businesses and the risk of property owners losing the shirt off their back or the roof over their head reduces, minimising the risk of a market crash.
Logistically however, the lock down proposes challenges around open homes and auctions and also access to professionals such as solicitors. I can help you navigate these disruptions to still get an outcome.
Wage support
Impacted businesses can access a wage subsidy of $585 a week per full-time employee and $350 a week per part-time employee for up to 12 weeks at a cost of up to $9.1 billion.
To qualify businesses need to commit to continue to employ staff and pay them 80% of their current wage, show they have suffered or project to suffer a 30% or more reduction in revenues and have taken steps to mitigate the impact of COVID-19 on their business.
The initial $150,000 cap was removed which means basically every impacted business will be covered enabling them to support their workers.
● Employer application, link here
● Self Employed Application (no employees), link here
Business Support
Tax changes: The Government has announced $2.8 billion in business tax changes to free up cashflow, including a provisional tax threshold lift, the reinstatement of building depreciation and writing off interest on the late payment of tax. Sick leave and isolation support: 126 million dollars has been allocated to support staff to take sick leave for self-isolation, or stay home when sick with COVID-19.
Aviation support package: 600 million dollars targeted to support the aviation sector.
The Business Finance Guarantee Scheme: A 6.1 billion dollar scheme allowing qualifying businesses to borrow up to $500,000 for a maximum of 3 years. Banks will be expected to provide these loans at competitive rates. The Government will carry 80% of the credit risk, with the other 20% to be carried by the bank.
You have a remote-ready expert on your side
Questions? Plans? Call us, Skype us, Zoom us, or we can Google Hangout. I'm fully digitally enabled, so every part of the process can be done online and over phone, without a face-to-face appointment.
Get in touch today or find us on facebook to book in your free 30 minute consultation.
Category: Finance Mortgage Broker Broker Mortgage
Tags: Mortgage interest rate Home loan Mortgage Advice Broker Finance Mortgage Adviser COVID-19 Home Loan Holiday Interest Only